Great hotel with star cuisine!
The traditional hotel with a thousand years of living history combines authentic ambience with contemporary comfort and warm hospitality. In terms of cuisine, the hotel boasts one of the best restaurants in Hesse. The former stagecoach station offers guests a modern SPA area and stands for high-quality wellness treatments.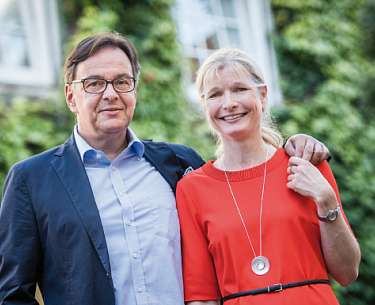 Your hosts
As hosts, Ines and Achim Kniese welcome you and create a cosy atmosphere for their guests. They continue to run the hotel in the old tradition in the historic ambience with genuine hospitality and have the high standard of creating a real home away from home for their guests. The family-run hotel has been part of the Romantik Hotels & Restaurants since 1972 and, with its central location, is the "first house on the spot".
Our facilities
at Romantik Hotel Zum Stern
Parking Garage
Meeting Facilities
Free Wifi
Sauna
Terrace
Parking Area
Indoor Pool
Lift
Pets Friendly
Central Location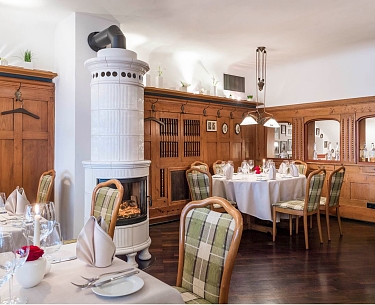 Stern*s Restaurant
STERN*S RESTAURANT is still considered by many to be the "parlour of Hersfeld". Is it possible to express more clearly that our guests feel well looked after and enjoy themselves in a relaxed manner? Wood panelling and rustic benches, a wood-burning stove and the lovely seasonal decorations make our restaurant a cosy place indeed. Weather permitting, the Stern opens its doors to include the idyllic Linggplatz.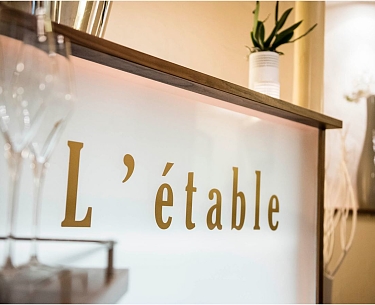 L'étable
Since mid-2006, a new heavenly body has been sparkling brightly in the gastronomic firmament: the gourmet restaurant L'étable. The name L'étable, which means "the stable", refers to the history of our house: in the past, the horses of stagecoaches, traders and other travellers used to rest here, where the restaurant, designed in a modern French country house style, is located today. At nine tables in an exquisite ambience, our dedicated kitchen team spoils the guests. Our aim is to surprise all guests with our cuisine and to set accents. In 2020, the restaurant was awarded 16 out of 20 points by Gault Millau and the Guide Michelin once again awarded one of its coveted stars.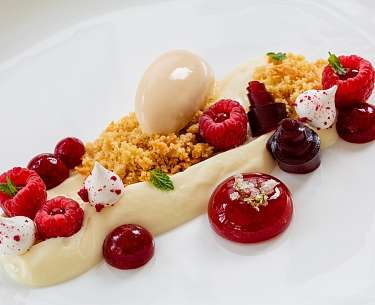 Chefkoch Constantin Kaiser
Chefkoch im Gourmetrestaurant L'étable ist Constantin Kaiser. Seit 2013 im Haus, machte der langjährige Souschef seine Ausbildung im Landhaus Zu den Rothen Forellen mit der damaligen Forellenstube, die ebenfalls mit einem Stern im Guide Michelin ausgezeichnet war. Als Commis de Cuisine war Kaiser im Jungborn im Bollants im Park und im Relais & Château Hotel Gasthof Post in Lech, wo er zum Demichef und später zum Partiechef befördert wurde. Eine weitere Wintersaison in Lech verbrachte er als Chef Patissier im Lecher Hotel Auriga.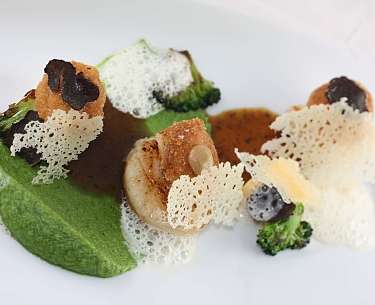 Chefkoch Toni Schoch
Head chef at the Stern*s Restaurant is Toni Schoch: 29-year-old Toni Schoch has been at the Romantik Hotel Zum Stern since 2011 and, after completing his training in Willingen, has worked his way through all the positions in the kitchen at the "Stern*s".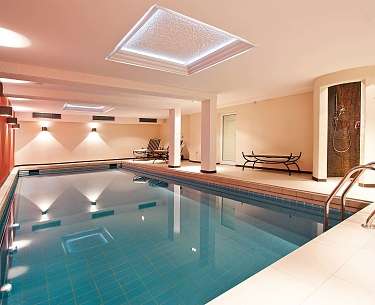 Stern*s Spa
Relax romantically in our STERN*S SPA. In our completely redesigned and modernised wellness area you have the opportunity to relax, revitalise and switch off on a total of 300 sqm. In addition to a varied selection of treatments related to cosmetics & wellness, it also offers a Finnish sauna, a bio sauna, a steam bath and relaxing Rainshower experience showers. The offer is rounded off with a relaxation room.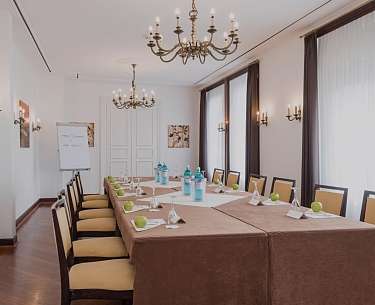 Seminars & Conferences
We offer you optimal conditions for a successful and stress-free conference in our Romantik Hotel Zum Stern. In five different sized function rooms ranging from 22 to 140 sqm, you will find the perfect setting for events of all kinds. We are happy to provide a pleasant and stimulating working environment with a room design individually tailored to your needs. We also provide you with the necessary conference technology.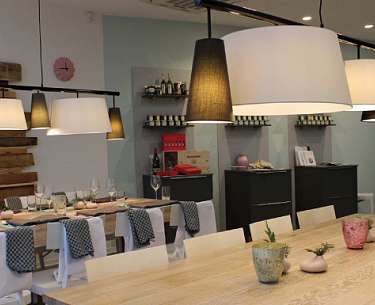 Star*s cooking workshop
Cooking becomes an experience here. Spend a cosy evening with friends or work colleagues in a relaxed atmosphere. Together with our chefs, you cook a delicious meal from fresh and high-quality ingredients under the guidance and with valuable tips from the professionals. A maximum of 50 people can take part in the cooking courses and events with our chefs.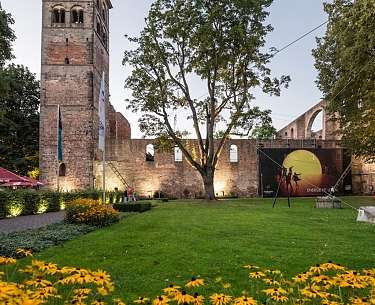 Bad Hersfeld
Centrally located in the festival town of Bad Hersfeld is our Romantik Hotel Zum Stern. From here you have the opportunity to discover the region and experience adventures.
Bad Hersfeld offers its guests a wide variety of leisure activities. Explore the German language in a playful way in the "wortreich", an adventure museum for language and communication. Experience great theatre in the world's largest Romanesque church ruins during the annual "Bad Hersfeld Festival" or book guided tours of the town in the footsteps of Konrad Zuse and Konrad Duden.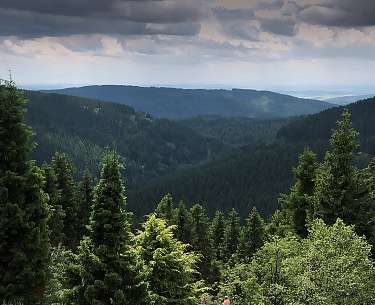 Activities
The region invites you to go hiking and cycling. The Thuringian Forest with its many beautiful routes, the Knüllgenbirge and the Rhön with the Wasserkuppe right on our doorstep offer a wide range of activities for young and old. We would be happy to help you create an attractive leisure programme tailored to your wishes and interests.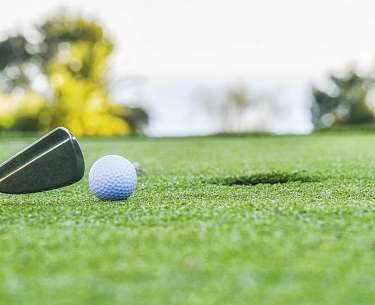 Golf
Nestled in the mountainous landscape of North Hesse, the 18-hole Kurhessische golf course in Oberaula is considered one of the most beautiful golf courses in Hesse. Impressive scenery, a varied golfing offer and cosy hospitality await you. Ask our team about other courses with 20% green fee reduction.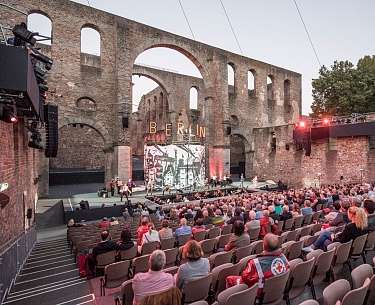 Bad Hersfeld festival
Visit the Bad Hersfeld Festival and enjoy great theatre in the largest Romanesque church ruin in the world. This year the 71st Bad Hersfeld Festival opens on 01 July with the world premiere of the play "Notre Dame". This will be followed by the plays "Volponne" by Ben Jonson, "Der Club der toten Dichter" by Tom Schulmann, which was already a great success last year, and the musical "Goethe".
Romantik Hotel Zum Stern
Familie Ines & Achim Kniese
Linggplatz 11
Germany-36251 Bad Hersfeld
DE_Hessian mountains -

A7 exit Bad Hersfeld West, A4 exit Bad Hersfeld, then direction Bad Hersfeld Stadtmitte and follow the hotel signs "Hotelroute". The approach is via Webergasse 6.
Train Station/ ICE Station Bad Hersfeld.

65 km to Kassel-Calden airport 130 km to Frankfurt/Main airport.