"The little paradise for rest and relaxation".
Surrounded by greenery and centrally located in the middle of Germany, the Romantik Hotel Zum Rosenhof welcomes you in the tranquil Felsberg-Hesserode in Northern Hesse. Here, guests find relaxation and recreation and enjoy time out in the hotel's idyllic rose garden. The warm-hearted hosts provide real moments of enjoyment, above all with excellent cuisine. Chef Hannelore Mayer-Stahl delights her guests with delicious compositions with a regional flavour, which have already been mentioned several times in the Michelin Guide.
Your hosts
At the Romantik Hotel Zum Rosenhof you will be welcomed by the warm host family Mayer-Stahl. In the rural idyll of the family farm built in the 16th century, you can still feel the tradition and local hospitality today. In the rural idyll of the Romantik Hotel Rosenhof, the hours pass pleasurably and free of hectic. Today's guesthouse in Felsberg-Hesserode is one of the oldest half-timbered houses in the area. It was built in the 16th century and was once a family farm, whose tradition and local hospitality can still be felt. The family farm, which is over 450 years old, is a special place where guests can come to rest and enjoy and feast at the highest level. Each of the charming rooms captivates with its loving and personal style and reflects the unique flair of the house.
Free Wifi
Quite Location
Parking Area
Meeting Facilities
Child Friendly
Terrace
Pets Friendly
Finest culinary delights
In the gourmet restaurant of the Romantik Hotel Zum Rosenhof, you can expect moments of pleasure at their finest. Here, hostess and chef Hannelore Mayer-Stahl personally takes care of your well-being. Together with her dedicated and creative kitchen team, she conjures up delicious creations from local produce. Already mentioned several times in the Michelin Guide, the cuisine delights with appealing dishes with Mediterranean influences, which are enjoyed in the restaurant with a view of the magnificent rose garden.
Tea-Time at the Rosenhof
Every Sunday it's tea time at the Rosenhof. For over 300 years, drinking tea has been a daily ritual in England - whether it's "earlymorning tea", "breakfast tea" for breakfast, the classic "afternoon tea" or "high tea" for dinner. The garden in the Rosenhof offers the right ambience and invites you to "tea time" every Sunday. Hearty sandwiches, for example topped with salmon or ham, sweet scones, small pastries and sweets such as pralines and candied fruit, crumble or applepie from the Rosenhof bakery are all part of tea-time. All this comes fresh from Hannelore's bakery! Please reserve the Tea-Time offer two days in advance under - +49 (5662) 8309624.
Table d`hote - Table of encounter
A large, modernly designed oak table for 12 people is available to our guests as a "table of hosts". This form of dinner, very popular in France, is intended to encourage guests - who have never met before - to eat and drink together, to socialise, to have good conversations, to get to know each other in an informal atmosphere. Always with a view of the beautiful rose garden, which is a popular gastronomic meeting place in sunny weather.
Conference with pamper factor
Are you planning a meeting, conference or convention?
In the unique ambience of the Rosenhof with its gourmet cuisine you will develop unimagined creativity and make the right decisions.
Weddings & Events
Enjoy the most beautiful hours of your life at our place. If you wish, your civil wedding can take place in our garden salon. The registrar will come to us. The exceptionally beautifully designed Friedenskirche is only a few steps away on the opposite side of the street. Upon special request and weather permitting, the church wedding can also be performed in our rose garden.
Trust in our many years of experience and sit back comfortably after you have told us your wishes. Use the days before your wedding for other nice things instead of worrying about all the details that are part of a successful celebration. We'll take care of that for you - whether it's a menu card, table decorations or a wedding cake.
documenta
This summer, Kassel will once again host the popular documenta. From 18 June to 25 September, one of the most popular world art exhibitions awaits you with exciting and innovative themes and objects. Together with 14 artist groups from all over the world, the documenta has already been in preparation for over a year, under the motto "lumbung". The Indonesian term stands for communality, sharing, generosity and sustainability, with the last point in particular being the focus of the exhibition.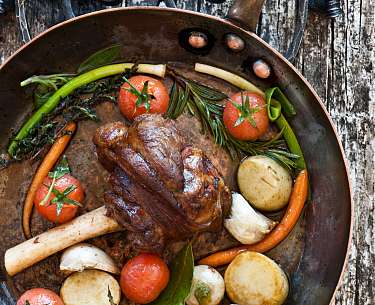 Barbecue and cooking classes
Would you like to learn everything important about grill & co. in a great environment?
Learn how to make sophisticated marinades and the optimal preparation of meat, fish, poultry and vegetables.
The best combinations, which cooking times are needed, right up to the accompanying drinks are all included and everything is trained. Or would you prefer to create tried and tested baking recipes or interesting multi-course menus with Hannelore Mayer-Stahl and her team?
Ask about our barbecue and cooking courses for a maximum of 8 people.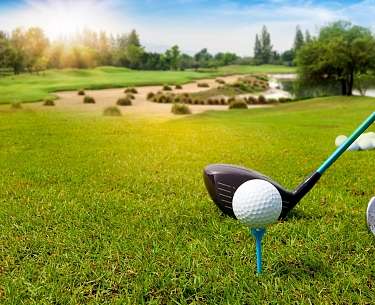 Golfing
Golfers can improve their handicap on three courses in the area. The extremely well-maintained 18-hole Waldeck Course or the 9-hole Edersee Courese invite golf fans at Golf-Club Waldeck e.V. to putt. In fairytale surroundings with a view of the higher-lying Friedrichstein Castle and the historic old town of Bad Wildungen lies the Bad Wildungen Golf Club, lined with mostly historic trees. The Kurhessischer Golfclub Oberaula Bad Hersfeld completes the offer.
Chalk painting
Fancy some creative time out in the heart of the idyllic Rosengarten? Then the Rosenhof has just the thing for you! Chalk paint and coffee enjoyment is offered by host Hannelore Mayer-Stahl in creative cooperation with Sandra Hilgenberg. In the wonderfully blossoming rose garden, you will become active in the community and design unique decorative signs for home and garden under the guidance of Mrs Hilgenberg. As a successful sweet ending, the hostess will serve coffee and sweet homemade delicacies. A charming afternoon for an exclusive price of 50 € per person.
If you are interested, please contact the hotel directly - dates will be announced soon.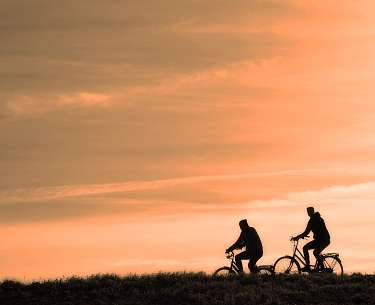 E-Bike tours
The Rosenhof is the starting point of fantastic e-mountain bike tours for young and old. Guided GPS tours await you here, leading along dreamlike paths and fascinating vantage points. First of all, you will receive a 20-minute training session and a detailed introduction to the e-mountain bike and the GPS device. Then you start your very own exciting tour. With a road book specially prepared for you, which includes 5 stages, you will be guided comfortably and safely from station to station. Insider tips await you on the three different route lengths! Whether 35 km, 45 km or 60 km - there is something for every level.
We recommend our Rosenhof picnic, which can also be booked.
Hiking in the UNESCO World Natural Heritage Kellerwald-Edersee
Included in the UNESCO World Natural Heritage List in 2011, Hessen's only national park presents itself like a sea of beech. Again and again, breathtaking views of the winding Edersee open up to the hiker, and its bays jutting far into the beech forests seem almost fjord-like. On more than 20 circular trails, you can discover the fascinating wilderness of the national park with its steep slopes, enchanted beech trees and clear springs as well as numerous views of Lake Edersee.
discover circular hiking trails
Romantik Hotel
Zum Rosenhof
Romantik Hotel Zum Rosenhof
Familie Mayer-Stahl
Rockshäuser Straße 9
Germany-34587 Felsberg
DE_Hessian mountains -

The tranquil town of Felsberg is about 30 minutes from Kassel. Follow the A7 to exit 83-Malsfeld. At the roundabout, take the first exit and after 1.6 kilometres turn right onto the L3149, which you continue to follow until you turn right onto Felsberger Strasse. After 1.8 kilometres turn left onto Hesseröder Straße and then straight ahead onto K32 and Zur Wasserburg. After about 200 metres, turn left onto Rockshäuser Straße and you will find the hotel on the left-hand side after about 100 metres.