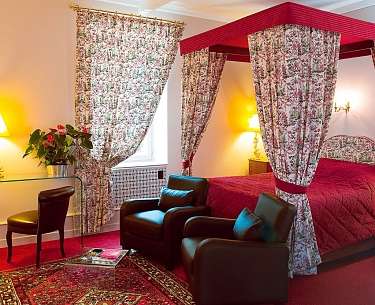 The castle of Fleurville between Tournus and Mâcon, built in 1624 by the Counts of Fleurville, has been lovingly restored since 2000. Its beautiful Burgundy stone façade and its high round tower overlook a beautiful park of 2 hectares with ancient trees. The kitchen matches the sublime beauty of the dining room with its beams and fireplace. It is inspired by the talented Burgundian chef Sébastien Di Noto, who brings exquisite quality produce to the table. Heated swimming pool, whirlpool, sauna and tennis court to relax... Mâcon La Salle golf course just 5 minutes away. Take advantage of the Voie Bleue for a walk or a bike ride around the château, or for a picnic on the banks of the Saône.
Château de Fleurville
Pascal Lehmann-Rapin
Rue du Glamont
France-71260 71260 Fleurville
FR - Bourgogne-Franche-Comté -

south, A6 out of 28 Mâcon Nord/Bourg-en-Bresse. From the north, A6 out of 27 Tournus, A40 out of Mâcon Centre-Lyon Moulins.


Mâcon-Loché (15 km)

Lyon-Saint-Exupéry (100 km)