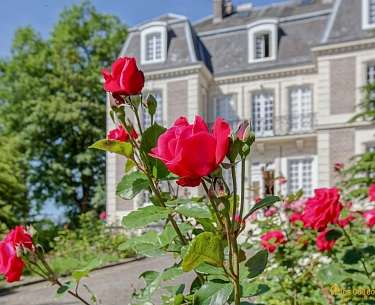 When you cross the gates of the Château d'Avesnes, you know that you enter an intimate world, filled with history and serenity. The château manoir is a haven of peace which offers you the luxury of utter relaxation, calm and space. It was built in the 19th century near Gisors, one of the most beautiful villages in Normandy. The castle itself is a symbol of love. At the end of the 19th century, Alphonse du Plessis de Sailly built this castle as a wedding gift for his wife. With 18 hectares of wooded grounds, the estate boasts an enormous garden with 300 fruit trees, including apple and pear trees, which will be enjoyed during your stay.
Four spacious rooms each have a king-size bed and a family suite that can accommodate 4-5 guests. All tastefully decorated rooms are equipped with spacious private bathrooms.
The elegant setting of the Château d'Avesnes, combined with intimacy and space, makes this chateau a most precious place for an unforgettable stay, a wedding with style or a festive event.
Ideally located 1:30 from Paris, 45 mins from Rouen, the chateau is on the "green hiking path" (Paris-London). During your stay, meet Madame Bovary and Maurice Ravel! Located near Rouen, Lyons the Forest, Giverny, Gerberoy, the Andelys and Gisors, the castle is in the heart of Normandy known for its 19th-century romanticism.
Château d'Avesnes
Adeline Kurban Fiani
99 Route de Gournay
France-76220 Avesnes-en-Bray
FR - Normandie -

A4

Beauvais-Tillé