Relaxation is guaranteed in our Romantik Hotels. Countless highlights await you in here. Whether a fisherman's sauna directly on Lake Millstätter See, which promises direct cooling after the sauna session, or dreamlike views of the Mosel, Salzburger Land or the Dolomites - experience an unforgettable getaway!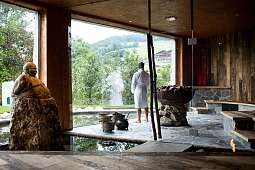 Romantik Hotel Turm
Romantik SPA Hotel Seefischer am See
Romantik Hotel Spielmann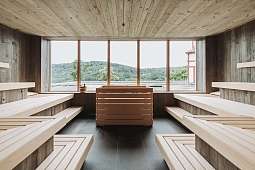 Romantik Hotel FreiWerk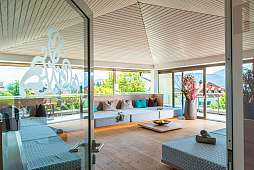 Romantik Spa Hotel Elixhauser Wirt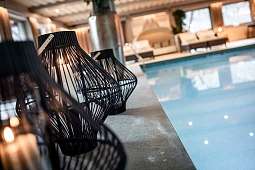 Romantik Hotel Stafler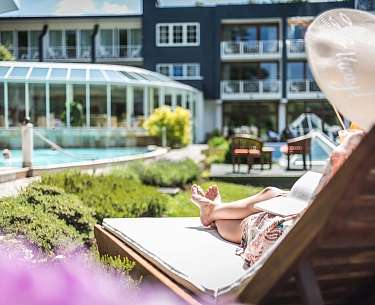 Sheer relaxation
Relaxation comes first in our wellness hotels. Relax in spacious wellness areas with great SPA offers and get yourself pampered. Spectacular views of picturesque landscapes, such as the Salzburg mountains or the magnificent Millstätter See, can do wonders to the mind and body.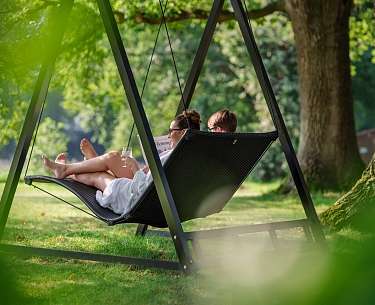 Wellness & Nature
Wellness in nature together with natural products is getting more and more popular. Austria is the destination for wellness fans thanks to its unique natural landscape. Crystal clear lakes and a breathtaking mountain panorama invite you to spend relaxing hours and ensure the harmony of body and mind in harmony with nature.
Our certified wellness hotels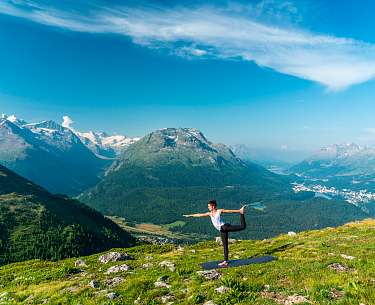 Mindfulness
Never ending appointments, constantly in a hurry - people and feelings often slip away unnoticed. With simple mindfulness exercises, you can effectively slow down your everyday life and even prevent illness. Discover three simple exercises to live more relaxed and healthier here!
Wellness hotels are accommodations specifically designed for relaxation, recreation and well-being. They offer a variety of facilities and services such as spas, saunas such as Finnish saunas, gyms, massages and healthy eating options that provide lasting relaxation for the body and mind.
To be the center of attention for once, to treat yourself to something soothing, to be pampered in a subtle way - a wellness trip is good for body and soul and lets us forget the burdens and stress of everyday life. A very special time for relaxation in a beautiful place brings the ego back into balance in a very pleasant way. And gives us strength for upcoming challenges.
Massages, hot stones, oil infusions, scented and acoustic baths: the spectrum of soothing treatments and therapies is constantly growing. But it is about more than just the positive stimulation of the body in the border area of physiotherapy and spirituality - wellness has long been a magic word for all kinds of feel-good applications. One likes to be surprised, what exactly is offered in the individual programs.
There are hardly any limits to the imagination. A harmonious ambience is a central element of all wellness trips. Our Romantik Hotels & Restaurants welcome their guests with special offers and provide them with an all-round soothing stay. The treatments are carried out by well-trained professionals, and there are also areas to relax and be cared for. The time out, in which body, mind and soul are pampered, can be enjoyed in many regions - and it is especially pleasant when the surrounding nature also has a calming effect.
A good wellness hotel offers a wide range of wellness services, high-quality spa facilities, qualified staff, a relaxed atmosphere and healthy cuisine. It is often in a quiet and natural environment to support good relaxation.
You can expect various wellness services such as massages, facials, body scrubs, aromatherapy, yoga and meditation classes, fitness classes, saunas such as, steam rooms, thalassotherapy and much more. The exact offers vary depending on the hotel.
Yes, many Romantik wellness hotels offer special offers for couples, such as romantic spa packages, couples massages or private whirlpools. These offers are ideal for a romantic getaway or a special anniversary. Some Romantik wellness hotels have their own private spa for wonderful hours for two.
You can find our hotels, for example, in Baden-Württemberg and the Black Forest, in Bavaria or in the Sauerland. You can also find other hotels in European countries such as Austria or Italy.
You can book a Romantik wellness hotel directly via our website. Simply select the hotel you want, enter your travel dates and follow the booking steps. Alternatively, you can also book by phone or email.
Yes, it is recommended to book your spa treatments in advance to ensure you receive the appointments and treatments you require. When booking by phone or email, you can specify which treatments you would like and the hotel will reserve them for you.
In most cases, you must be a guest at the hotel to use the spa services. However, some hotels also offer day spa packages where you can use the spa facilities and treatments for a day without staying at the hotel.
A spa vacation is a good idea all year round. During the winter, warm thermal water and cozy downtime in front of the fireplace chase away the winter blues, while the alternation of heat and cold also strengthens the immune system in the summer.
Yes, they are also suitable for individuals. You can enjoy the facilities and treatments at the Romantik Hotel on your own and treat yourself to a break from everyday life in the spa areas.
Whether you are planning a wellness break, a wellness weekend or a wellness day, enjoy your time out to the fullest. Romantik Hotels take wellness by the word and recreate scenes of well-being. This creates pure well-being - without hustle bustle and stress.
Age restrictions may vary depending on the Romantik Hotel. As a rule, children under a certain age are not allowed access to the spa areas to ensure a calm and relaxing atmosphere for guests. There are also special adults-only hotels. Please inquire about the hotel's exact policies when booking.
No, Romantik wellness hotels are equally suitable for men and women. The individual wellness offers in the wellness area are aimed at all guests, regardless of gender.
The Romantik Wellnesshotels offer bathrobes, slippers and towels for rent. Should your hotel have a pool, remember your swimwear. Also don't miss a good book or your favorite music to relax during your quiet moments.